March 2022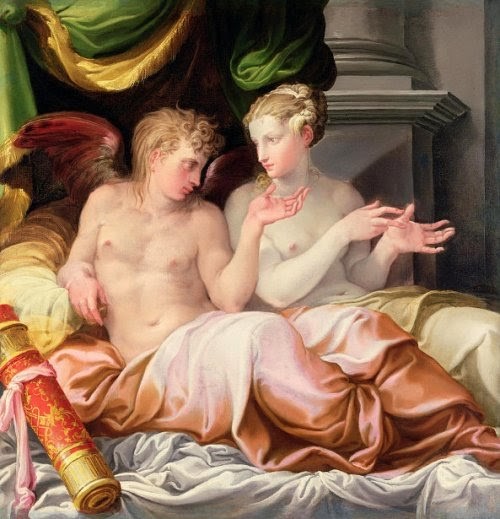 Niccolò dell'Abate, Eros and Psyche, 1552-71, Detroit Institute of Arts
Dialogue has always been the backbone of knowledge. In 1659, John Evelyn wrote his vision for the ideal institute to explore natural knowledge to his colleague Robert Boyle: a place where intellectuals could observe and discuss natural phenomena, which should include – beyond the material needs for research – a routine of shared meals and designated conversation hours. The Greeks and Romans used dialogue and banter as tools for philosophical explorations. Religious, intellectual, and scientific manuals had the dialogue format as one of the main vehicles to spread knowledge throughout the early modern period. Be it cafe discussions, academic debates, oral transmission in apprenticeships, thesis defenses, or tales shared around a bonfire, knowledge depends on conversation to be created, transformed, and disseminated.
But where can we find privacy in dialogue? Private conversations of the past rarely leave traces, and many times historians have to analyse their sources against the grain to look for vestiges of these exchanges – or to find hints of privacy within the recorded ones. Following up the 2020 event Practices of Privacy: Knowledge in the Making, which launched the "Practices of Privacy" symposia, this second year will explore how dialogue can be a mediator for the development of ideas in all kinds of areas of human interest.
We are interested in how dialogue and privacy intersect in the history of knowledge. Participants of all disciplines are encouraged to apply. We welcome abstracts based on (but not limited to) the following themes:
Knowledge exchanges in private: verbal and written strategies;
Dialogue in literature: locating privacy in literary sources;
Dialogue as a genre of knowledge transmission;
Dialogue rhetorics;
Didactical dialogue;
Spaces for private conversation;
Architecture and design for private conversations;
Privacy in formal and informal conversations;
Cryptography;
Internal conversations: developing the private knowledge of one's self;
Knowledge of conversation: the art of communicating and the role of privacy;
Philosophy as dialogue.
Please apply to participate by sending an abstract of 300 words, accompanied by a 2 pages CV via this form.
This symposium will take place in March 2022. (Precise dates to be announced.)
Deadline for abstracts is 28 November 2021.
Organizers: Annemie D.G. Leemans, Jelena Bakić, Liam Benison, Natacha Klein Käfer, and Natália da Silva Perez.